'Tis the Saison
July 24, 2012
For our final week of Belgian Beer Month at The Blind Monk, we are highlighting the ultimate Belgian summer beer style: SAISON.
.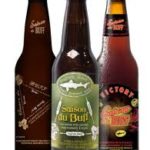 Originating in Wallonia, the southern, French-speaking part of Belgium, Saisons are farmhouse ales named for the French word for season. The season it refers to is "Brewing Season." Although Saisons are now brewed year-round, in the days before refrigeration, it was too hot to properly ferment beer in the summertime, so a large quantity of Saison would be made during the last weeks of brewing season.
.
Each farmhouse would brew it's own unique beer, and thus there was (and still is) a wide variety of styles within the saison family. Saisons in general, however, tend to share some common features. They were designed to be quenching, flavorful beers to refresh farmworkers during the heat of summer. The beers are thus lighter in character, even though many tend to be stronger in alcohol (in order to help preserve the beer for the summer months).
.
As a style, Saisons tend to be pale to golden, but can be slightly cloudy, as many saisons contain some wheat and are bottle conditioned. All Saisons are fairly dry and crisp on the palate, even with the stronger "Provision" version, and have distinct herbal and black pepper flavor and aroma. Beyond these common characteristics, they can occasionally be hoppy, tart, wild, funky, session or imperial and spiced with anything and everything the brewer can dream of.
.
As they are flavorful, refreshing beers with distinct herbal and spice character, saisons canpair with just about any food imaginable, from light appetizers to savory entrees to desserts. Garret Oliver calls Saison du Pont the "Swiss-army knife" of beer and food pairing, due to its versatility. Moreover, Saisons pair extremely well with certain types of foods that other beers (and wines) do not. The quenching character of the beer means that it can stand up to some pretty intense heat, and the herbal and spice notes means that it can enhance the flavors of heavily spiced dishes. As such these beers go great with Thai, Mexican, Cajun, Indian, and Middle Eastern Cuisine, along with pretty much anything else.
.
So, 'tis the saison to drink some great beer!